motherhood: monique hemmingson
The lovely Monique Hemmingson recently launched the book Wild Kinship, where she interviews our founders Jacob and Goergia Faull. We chatted to her about her journey to the slow life, celebrating ethical and local brands as well as her new journey as a mama to little Lulu.
I am a writer and wellness advocate...
I have recently published my debut book Wild Kinship and launched my new business Moon Mama. I am also a full time Mother to our little 10-month-old gal Lulu. My husband owns a small construction company and this past year we have moved to the sleepy neighbourhood of Papamoa Beach. We tend to move around a lot. We had been in Mount Maunganui for the past four years, we love this little corner of the world, prior to that we were living overseas. However we both call small seaside towns on the Coromandel Peninsular home.
I fell ill on a solo backpacking trip in South East Asia in my early twenties, it was this illness that really shaped my path forward...
Over the following years I struggled with my health and wound up eating a very strict, clean, wholefoods diet. I had been working in kitchens and hospo for close to a decade in between travels and study so decided to move back to NZ and open a wholefoods café, which immersed me further into this industry.
I think the general premise of wholefoods begs of more awareness of you and forces you to cook from scratch- and in that act, slow down. You start to consider what you are putting in your mouth and how it maybe effecting your body and the environment around you which snowballs into a general awareness of your existence over all. To me mindfulness and a heightened sense of awareness sits alongside a slower lifestyle. In saying that 'slow living' as a movement is something I aim to achieve, but often struggle with.
I find modern society takes your hand and pulls you in this direction and that, it tells you all of the things you should be looking at, thinking about or doing and it can be very overwhelming. Slow, or more so, consciously living, is about pulling your hand back again and again and saying no, this is what is important to me, and doing that instead. It can be hard in this world we live in though.
I am fortunate in that I can be home full time with Lulu, which definitely helps a lot and was important to us. If anything having a baby slow's down your life considerably. For me, again, it comes back to that sense of heightened awareness; making sure we get out into nature daily, stop to play with the sand, pick a flower, listen to and watch the birds, I also always, as a rule, stop to smell the roses (people probably often catch me leaning too far into their yard so that I can reach them.) I think these are wonderful sensory experiences for Lulu and I hope that she will inherently think to do the same as she grows older- to stop, breathe and take it all in. I also do little things like make all of her food from scratch, which again is much slower but enjoyable and great for her to experience new flavours and textures and play with her hand eye co-ordination and senses. Meal times in our house take hours ha-ha.
The inspiration for Wild Kinship came from my wholefoods café...
I was working with a number of inspiring, environmentally sustainable entrepreneurs via the café and I was learning first-hand how hard both small business and ethical business can be. Wild Kinship profiles a number of creative, small business' who put the environment over profit across New Zealand and Australia. It explores a new type of business model and the importance of conscious consumerism and community. It's a super uplifting inspiring read for environmentalists and business owners but also consumers as a whole.
Moon Mama is an online conscious collective I have recently launched, for mothers and their babes...
It offers an ethical brand directory, holistic wellness journal and preloved buy and sell platform. Similarly to my other projects, it has come from a place of passion and experience. I wanted to create a supportive, inspiring and educational space to help Mothers on their journey that also championed conscious business' and helped to divert more from landfill. Moon Mama is my way of ticking all of those boxes.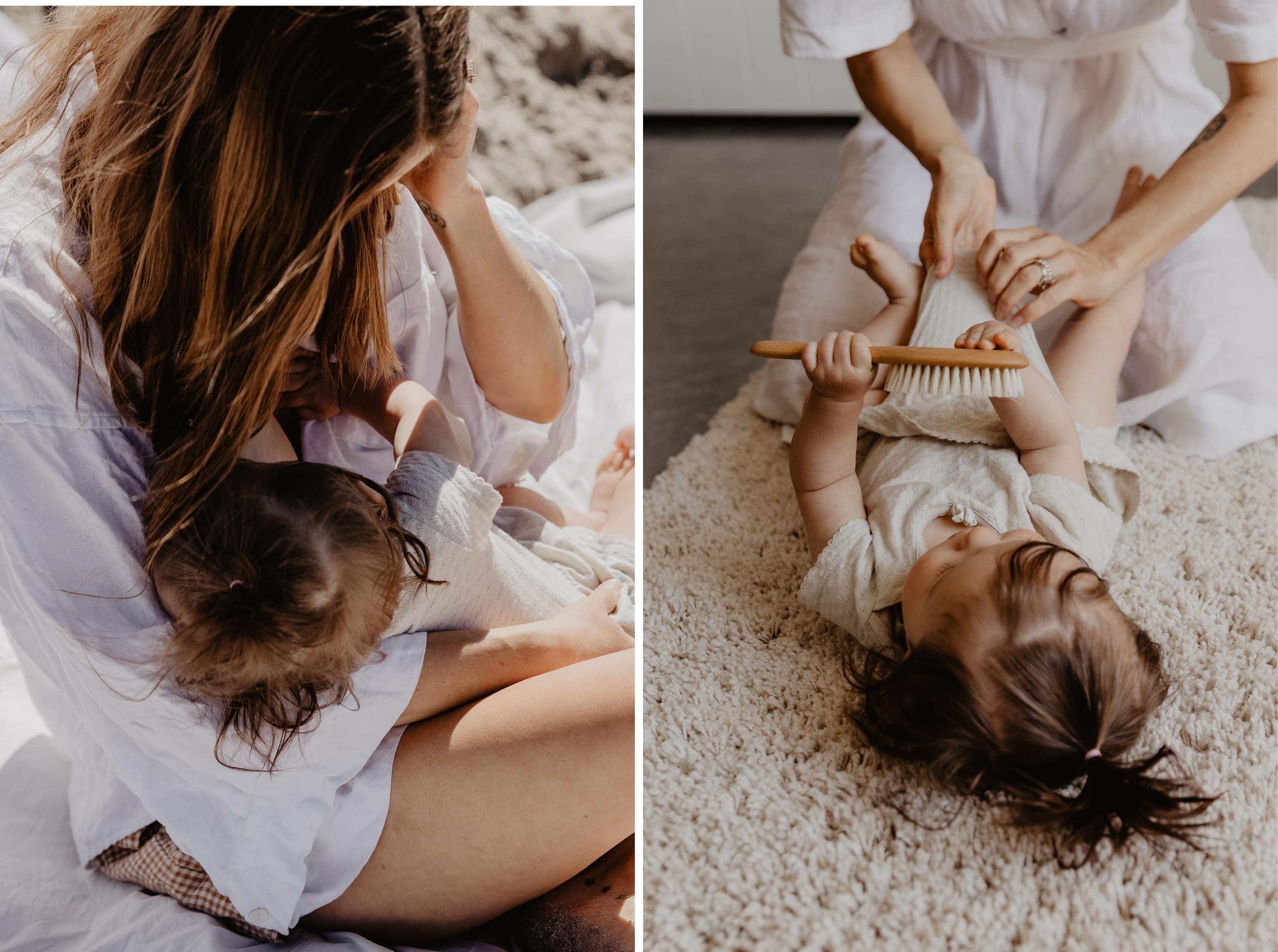 I have found motherhood to be quite isolating at times..
and the lack of freedom, compared to what I had grown accustomed to, to be quite challenging. The sleep deprivation has however been the most brutal and relentless on every facet of life. But I know once we catch up on sleep (one day, people keep telling me it will happen) I will look back at this special time, with our little beauty, to have been nothing but magic and I am so grateful for all of it.
The best piece of advice I've recieved when it comes to kids is to let go. While I was pregnant I read that you need to learn to surrender in every stage of motherhood. This really resonated with me at that time in our journey and has continued to. We had a tough few years or miscarriages prior to the birth of Lulu. So right from conception and throughout the pregnancy, when I was quite sick and very anxious about another loss, to the birth, which was hugely about letting go and trusting your body, and into actual parenthood, this idea of letting go and surrendering has been huge. We were lucky enough to experience a planned natural home birth with Lulu and I found the act of labour to be the perfect example of this; trusting your body and completely surrendering to the flow of nature. I definitely haven't mastered it across the board though yet, I can imagine it will continuously be an art to embrace as our family grows.
Top three newborn essentials?
Lulu lived in her snuggle me sleep pod for the first few months and it was a dream. A front pack; I always dreamt of being a baby wearing Mama, I ended up using it loads for day naps and bush walks as she got a little older. A handful of soft, plain, organic cotton, fuss free stretch and grows that got us through the hot summer.
What or who brings the fun for you and your family?
Adventure. James and I travelled a lot prior to this season and it is a really important part of my life. But a little adventure anywhere, near or far has the most profound ability to give me inspiration, clarity and perspective. We feel instantly relaxed and much more playful and giggly. It also makes me appreciate our beautiful home and be excited to get back.
A day in the life
I LIVE… by the sea
I AM CURRENTLY READING…I have just finished Educated by Tara Westover and am about to start Nightingale by Kristen Hannah.
I'M LISTENING TO…The One Wild Ride Podcast with Pru Chapman religiously
MY WEEKENDS START WITH… A big, full, snuggly bed with Lulu and our gorgeous dog Remy, followed by pancakes.
ONE ITEM I CAN'T LIVE WITHOUT IS…Books. I'm a real nerd, books are my favourite.
Thank you so much for sharing your story with us Monique! Be sure to visit Moon Mama for your guide to other like-minded essentials for baby! xx Nb